INFORMATION TRIP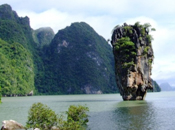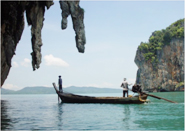 Phang Nga Bay

is appropriate for one day tour favourited by tourist of Phuket and Phang Nga. 45 minutes away and renowned for its dramatic limestone islands jutting vertically out of the emerald green water. Phang Nga Bay's most famous limestone rock is Tapu Island,also known as Jame Bond Island from the film "Man with the golden gun"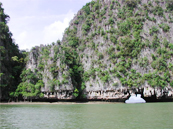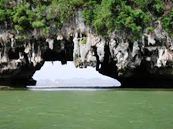 Tham Lot

is a limestone grotto sculptured by weather and the sea water. The cave is large enough to allow two or three boats going through side by side. There are also stalactites hanging down from the roof, but not as beautiful as those found in a mountain cave, probably because their formation has been constantly interfered by forces of nature. Tourists popularly canoe to explore nature here. The waves never reach one meter high even in the monsoon months from May to October, though a visit from November to April is still preferable because then the sky is clear, the sea is calm and the trip will not be interrupted by rain.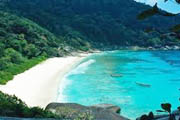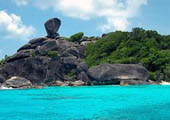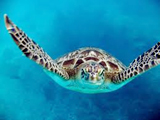 The Similan Islands

national park is one of the most beautiful marine national parks in Thailand. It was rated by American Diving magazine as one of its top ten dive sites in the world. The beach is not be missed either. Containing golden powdery sand, it sits next to mirror like waters, the likes of which you'd imagine paradise to possess – a place everyone should visit once in their.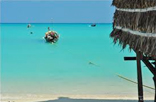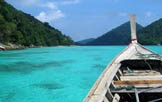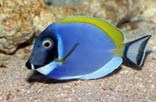 The Surin Islands

National Park is known for the pristine reefs, lush jungles and remote location on the edge of the Andaman Sea. For getting away - and enjoying it - the Surin Islands are among the very best you will find in Thailand.There are 5 Surin Islands - all uninhabited except for a small Sea Gypsy (also known as "Moken") village and the park Rangers.Located about 90 km Northwest of Khao Lak and 40 km west of Kuraburi, the Surin Islands are remote. It is best to stay in Khao Lak as Kuraburi has very little in the way of tourists infrastructure.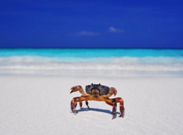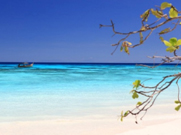 Ko Tachai (Virgin Ireland)


Although part of the Similans National Park it is a long way north of the main islands (1 to 9) Various considered this to be the best diving site in Thailand. Not only does this site have beautiful corals but that are many large fish here so it good for snorkeling too. There are leopard sharks, nurse sharks and eagle rays. Hawksbill turtle and whale sharks are regular visitors of these water. Here is a lovely island with a long white beach, beautiful waters, rocky outcrops and a small mountain viewpoint that even the laziest tourist can tackle. There is some interesting wildlife as well: Chicken Crabs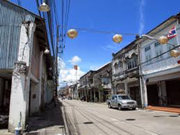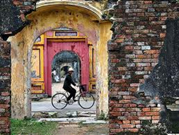 Takuapa & Old Town


At Takuapa Old Town you will find Sino-Portuguese architecture and have the chance to wander around the quaint shops (best in the early morning), about 45 min drive from Khao Lak. Takuapa Market and River Plaza are in the new town, slightly closer to Khao Lak (near the bus station). This is a typical local market and the Plaza has some good shops and a few riverside restaurants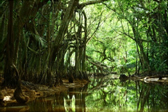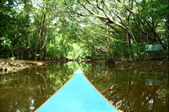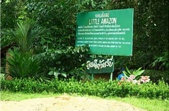 The Little amazon canoe at Takuapa


This Amazon forest has been uninhabited for over 300 years ago. This area is considered to be sacred by the cocal villagers. This area is close to Takuapa River and full of Banyan trees,River snake,Exotic birds,different kind of birds,Orchids,Natural fruits,Squirrels,Fishes,Crabs and Forest spirits are some of the many inhabitants of this wildlife more than Three centuries.Hidden for over centuries, The Tsunami of 2004 brought new explorers to the rediscovered this emerald forest .Now you too, can take this jungle cruiseexperience. See by yourself, how the real natural life of there.
Other tourist attraction





Lamru National Park


Khao Lak Lamru National Park is the home of several rare creatures. Some frothy waterfalls and lovely beaches add to the attraction of the National Park, making it more colorful. A visit to the Park is an adventurous and exhilarating experience.



Lampi Waterfall

is in Thai Muang Subcounty off Phetkasem Highway this medium sized waterfall has three levels, each about 100 metres high, and flows all year round